WILL SOMEONE TEACH ME HOW TO THROW AN AXE?
Absolutely!  You will be with an instructor at all times.  The first half hour of your experience is spent learning the safety rules and procedures of how to handle an axe.  With proper instruction, practice and by following our guided procedures, you will be able to safely throw an axe during your session.
---
WHAT SHOULD I WEAR?
Closed toe shoes are a must! Be comfortable and wear no restricting clothes.
---
DIRECTIONS TO THE FACILITY- YOU WILL GET LOST!
Go under the tunnel and look for the red Stars Indoor Sports Building on your right! Allow yourself extra time! It takes a few minutes to walk to the axe range inside the large complex. PLEASE ARRIVE EARLY!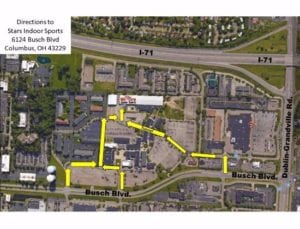 ---
IS CATERING AVAILABLE?
Catering is available upon request from Stars Indoor Sports.
---
DO YOU ALLOW ALCOHOL?
No, we do not allow parties to bring alcohol. There is a full concession stand onsite where beer and wine can be purchased.
I know what you are thinking… beer and axes?   Let it be known that if you are intoxicated you will not be permitted into the facility.  If you become intoxicated at the facility you will not be permitted into the Axe Arena. NO GLASS BOTTLES PERMITTED.
---
SHOULD I BRING SOME CASH?
YES! Bringing some cash is a great idea. We have a concession stand onsite with food and drinks- including beer and wine available for purchase. Our AXEPERTS also are working hard to make your axe throwing experience THE BEST EVER! Although tipping the AXEPERTS is not necessary, cash tips are GREATLY appreciated.
---
WHAT IF THE TIME I WANT IS UNAVAILABLE?
Please contact us at support@columbusaxethrowing.com and we will work on opening another range for you!